This Friday: CAN RELEASE PARTY!
*No Case Limit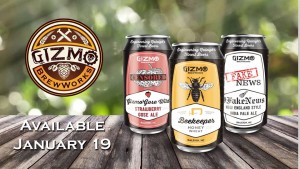 Finally, the time has come…
On Friday January 19th Gizmo is having their first ever can release with six packs of three of your favorites!
Beekeeper – Honey Wheat
Gizmo Gose Wild – Strawberry Gose
Fake News – New England IPA
You will soon see these cans available in all of your favorite bottle shops, restaurants, and grocery stores. Tomorrow is your chance to stock up on the first batch of Gizmo cans.
This is an exciting time for us! We hope you will bring your friends and family out to celebrate an important step in bringing our beer closer to you, our biggest fans.
 THURSDAY 1/18
Closed – Inclement Weather
Stay Safe and Warm
FRIDAY 1/19
Open 3-11 pm
Can Release Party
Cask: Palisade Wasp IPA – Dryhopped with Cryogenic Mosaic Hops
Food Truck: King's Authentic Philly Cheesesteaks
Live Music: Russ James
SATURDAY 1/20
Open 1pm-11pm
Free tour 4pm
SUNDAY 1/21
Open 1-8 pm
MONDAY 1/22
Open 4-8 pm
Bartender's Choice $3
TUESDAY 1/23
Open 4-8 pm
$1 Off bombers
Let us know what you think on Untapped!!