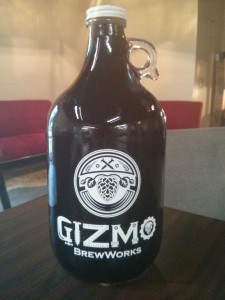 What is a growler?
Our growlers are large glass jugs that hold 64 ounces of beer (about five 12oz or four 16oz servings).
How long will a Gizmo growler last?
Gizmo growlers are counterpressure-filled in advance, ensuring a shelf life of at least three months, unopened.
How to care for your growler:
For starters, keep it refrigerated! Light and heat cause significant harm to the beer, resulting in off-flavors. (If it stays out of the refrigerator for a few hours but you're able to keep it from light and extreme heat, you'll be fine.) Once you open the growler, cap it as soon as possible to keep CO2 from escaping. Once the seal is broken, the beer should be consumed within 24 hours. Once you expose the beer to open air (oxygen), the beer begins to go flat. Share with your friends and enjoy our beer fresh!
How much does a growler cost?
We charge a $4 deposit for the glass, refundable upon return. Growler fills are $12. On Thursdays, we offer $2 off growler fills.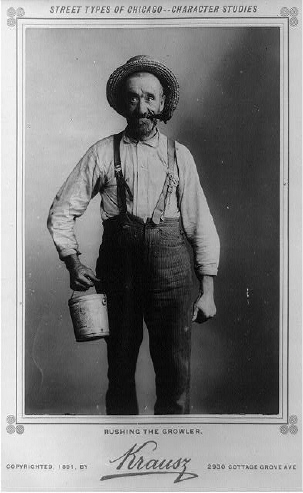 History
Before bottled beer became economical and common in the US, saloons ruled the day. If someone wanted beer outside of the saloon, a growler (aka a "can" or "bucket" of beer) was filled directly from the saloon taps.
Many different containers (including pitchers, other pottery or glass jars and jugs, etc) were used to carry beer home or to work – the most common "growler" was a 2 quart galvanized or enameled pail.
Now-a-days, growlers are mainly glass. Growlers are economical and environmentally sound since the vessel being used to transport the beer is cleaned , sanitized, and then reused.
Find Our Beer
Click on the map to find retailers carrying our beer.