On May 3rd, Gizmo Brew Works celebrates its first anniversary with an all-day outdoor festival. Come out and hear live music from local favorites Birds & Arrows, Morning Brigade, Embers End, Built for Comfort, and Jesse Wooten.
Gizmo will release its summer seasonal, Beekeeper Honey Wheat, as part of its 10-tap lineup, plus debut a special cask of The Palisade Wasp IPA. If you missed out on Robot Pony, the Gizmo/Ponysaurus/Mystery Brewing collaboration beer, this event may be your last chance to try it. Also being released is a pale ale brewed with Farm Boy Farms malt and Mosaic and El Dorado hops. For $8, purchase a 20oz commemorative Beekeeper weizen glass. Price includes your first pint and gets you refills at the 16oz price.
Hungry? Pick from three local food trucks. Red Hot & Blue and Liv's will serve up tasty lunches and dinners. Not Just Icing, Inc. will serve an array of gourmet cupcakes, including an Irish Car Bomb cupcake made with Black Stiletto Stout and a Beekeeper Honey Wheat cupcake topped with a honey vanilla icing.
12-8pm. Free admission. Family and dog friendly. Must show ID to purchase alcohol.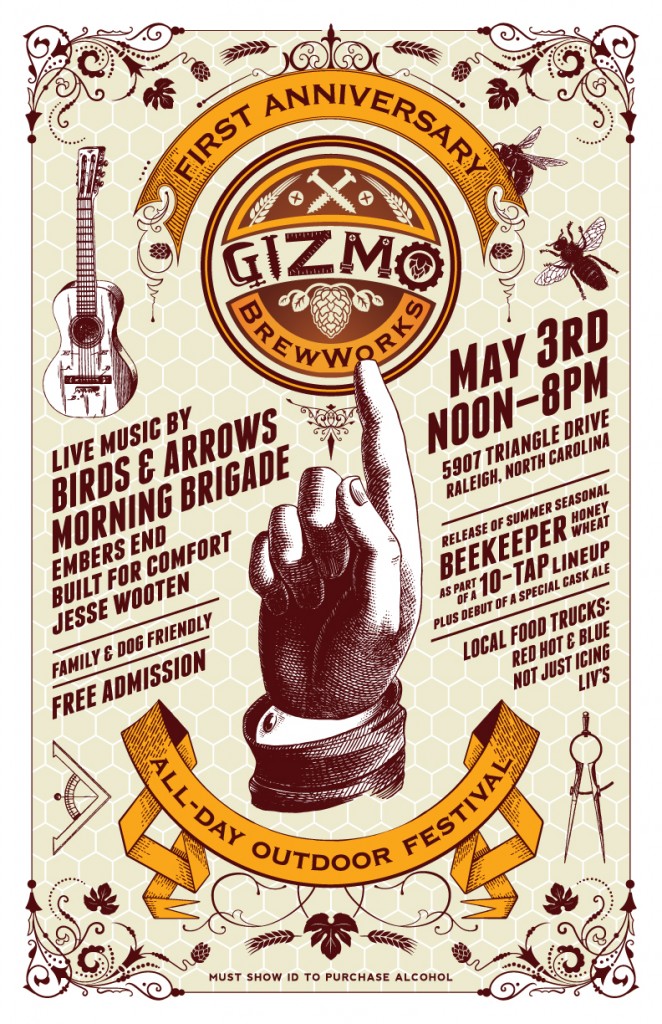 Band Schedule:
12:45 – Built for Comfort
2:30 – Birds & Arrows
4:00 – Morning Brigade (two sets)
6:30 – Embers End
Singer/songwriter Jesse Wooten will entertain the crowd during set breaks.